Sweaty feet often come with complications that can be worsened when not taken seriously. This is usually caused by overactive sweat glands.
Its effect can progress into a more serious problem that includes foot odor, athlete's foot, or fungus, which can lead to a lack of confidence and negative social impact in your life.
The good news is living with sweaty feet doesn't have to be that complicated. Inexpensive and practical remedies are out there, usually unknown to many but easily accessible to everyone.
One of which is a pair of comfortable and breathable slippers that is made from materials that can provide good ventilation and airflow, whether it be for indoor and outdoor use.
If you are interested to know more about it, keep reading as we provide you with the best slippers for sweaty feet to help you decide which of these is the best and for you!
Best Slippers for Sweaty Feet
There are plenty of sweaty-feet slippers in the market, each with its own unique design and features such as memory foam insole, odor-resistant slippers, breathable cotton, arch support, rubber sole, to name a few.
So, if you have sweaty or smelly feet, we narrowed down the options that will help keep your feet cool, relaxed, and dry no matter where you are.
Product Description
These thong flip flop slippers from Acorn are suitable for all seasons and everyday use as it allows high airflow around your feet providing a high level of breathability that your sweaty feet need with its open toe design. 
It is easy to take off too. Its marshmallow-like cushion soothes tired toes and heels, helps reduce muscle fatigue, and relieves pain and pressure.
It also has a skid-resistant rubber outsole and weatherproof sole that ensures durability. It has a quick recovery memory foam footbed that cradles your foot to provide maximum comfort.
Keeping your slippers clean is important to prevent bacterial growth, what's great about these flip flops is that it's easy to clean as its machine washable. Just air dry it and you're done.
It's also available in extensive choices of colors and sizes!
Pros
Provides cozy feeling when worn
Skid-resistant
Durable
Lightweight
Easy to clean
Provides arch support
Cons
It may take time to dry when wet
Best for indoor use not the best style for outdoor use
Interested? Check this link to purchase!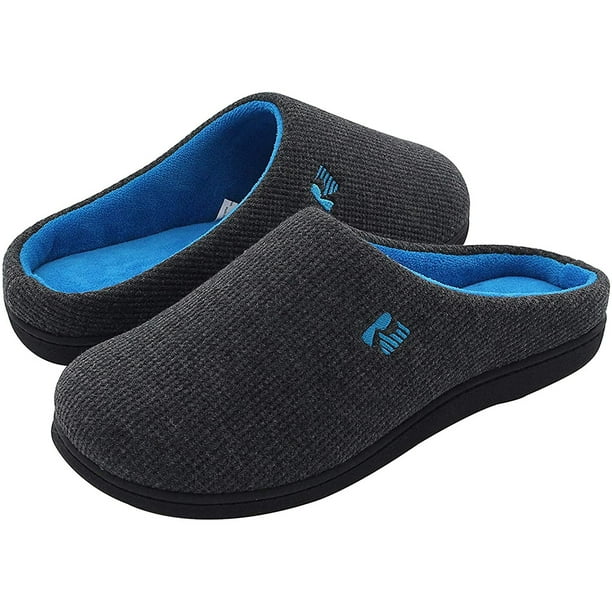 Product Description
RockDove Men's Original Two-Tone Memory Foam Slipper is made from breathable fabrics  95% cotton and 5% spandex that keeps your feet cozy when worn. 
These rockdove slippers feature a breathable waffle knit upper design that keeps your feet warm, dry, and comfortable. This means that you can wear these for a long time without worrying about having sweaty feet.
It has flexible soles made from memory foam materials that reduce foot stress and enhance support and comfort — best for those suffering chronic foot pain. They also offer a wide variety of colors and sizes to choose from!
These men's slippers are easy to clean too, you can simply put them in a washing machine.
Pros
Sturdy rubber sole
Lightweight
Easy to take on/off
Anti-skid
With back heel collar that keeps your foot from slipping out when worn
With spiky massager arch support that helps soothe
Cons
Best for house shoes not the best style as outdoor shoes
Memory foam lacks a little thickness
Interested? Check this link to purchase!    
You might also want to check out: Best Men's Dress Shoes-for-Flat-Feet
Product Description
These classic and elegant open-toe style women's slippers from Shevalues are extremely lightweight and super breathable which helps avoid sweaty toes and feet. 
It is made of 100% cotton and has a flexible and high-density memory foam that keeps your feet comfortable and relaxed. It has a well-made TPR silent sole so you can be assured that you won't slip or slide, whether you are indoor or outdoor.
What's unique about these cotton slippers is that they are foldable, which makes them great for traveling! These slippers offer great colors to choose from as well.
Pros
Helps feet relax with its high-density memory foam
Foldable
Lightweight
Anti-skid TPR sole
Cons
Best for indoor use only
Can be a little challenge to clean
Interested? Check this link to purchase!   
Product Description
These wool slippers by HomeIdeas are made from high-quality woolen fabric that provides feet with a warm feeling of comfort while keeping them dry and odor-free with its breathable woolen cloth upper design. This makes it ideal for slippers for sweaty feet. 
It has soft multilayer cushion memory foam with sponge insole footbeds for heel and arch support that keeps your feet toasty with comfort.
Its soft TPR soles are skid resistant allowing you to feel safe and secure on any house and indoor surface.
Like other slippers, they also offer a different variety of colors to choose from.
Pros
Thick memory foam
Can be used by wide feet
Easy to wear slippers
Anti-slip soles
Cozy and comfortable
Easy to clean
Cons
Interested? Check out this link to purchase!   
Product Description
Haflinger is a German brand that is famous for creating the best slippers with the right arch support.
These HAFLINGER woolen slippers are warm, comfy, and cozy, and their premium quality calls for a bit expensive price. 
The best feature of this product is that it is made of wool that is so warm for the feet and has a good insulation and breathability rate which is a big plus for your sweaty feet.
Its wool-felt insole lining makes the slippers feel like custom-made for your foot, too!
Pros
Latex molded arch support
Non-skid waterproof rubber outsole
Sturdy
Lightweight
Unisex
Cons
Interested? Check out this link to purchase! 
Product Description
One of the best slippers for sweaty feet is UGG Slippers. It is made from 95% dyed sheep wool and 5% polyester with molded rubber outsole for an added durability as well as comfort.
The fluffy features and open-toe design makes ugg slippers good with sweaty feet problems.
It features an elastic strap that allows the Fluff Yeah to fit your foot snuggly while walking, not too tight nor too loose.
It is available in a wide variety of colors and prints that will definitely stand out with your style.
Pros
Keeps feet warm and dry
Comfortable
Made from finest sheep fur from the US, UK, Spain, Ireland, and Australia
Open-toe design to keep things airy
Lightweight
Cons
Interested? Check out this link to purchase! 
Product Description
These men's slippers from Tamarac are made from 100% suede upper and dyed lamb fur from China. It is designed to keep your feet warm and dry, perfect for all sweaty feet.
The soles are made from durable rubber for added versatility in using both indoors and outdoors. Do quick errands, walk the dog, or simply use it in your living room, use it as you please.
It features an elastic goring to provide enough wiggle room for added comfort while making sure your slippers will not fall off during movements.
Pros
With genuine fleece lining preventing cold feet
Keep feet dry and cozy
Closed-back and rubber outsole design for versatility in using indoors and outdoors
Cons
Can be difficult to dry out
Interested? Check out this link to purchase!
Product Description
These moccasin slippers from LongBay have a bit of a formal vibe to it done perfectly with its suede skin and plush wool fleece lining that keeps feet warm and dry.
Its non-slip rubber sole design provides safety by keeping traction both indoors and outdoors in your home.
Its versatility means you can slip on these loafers indoors and then effortlessly transition to outdoors, like quickly throwing out the trash, getting the mail, or just going out for a quick breather.
The best part of it is its high-density memory foam that makes every step feel like walking on clouds. Since it is high density, it's able to provide enough support to relieve stress after a day's work.
All these features at an affordable price.
Pros
Easy to slip on and off
Non Slip outsole
Stylish
High-density memory foam
Warm plush fleece lining making it cozy on the feet
Cons
Sizes are not that accurate
Interested? Check out this link to purchase!  
Buyer's Guide: Slipper for Sweaty Feet
Before you buy the best slippers that will help keep your feet sweat-free, you might want to consider the following features:
1. Comfort
Walking itself is sometimes tiresome, so wearing slippers shouldn't make you feel irritable or uncomfortable, especially if you have sweaty foot problems.
If you are looking for slippers to wear indoors or outdoors, choose a slipper that has the best features to keep the feet dry and is light in weight to ensure your feet are comfortable when walking with them.
A thick breathable and flexible sole would also help you to move with ease and comfort.
2. Breathability
When it comes to sweat-free slippers, one way to control it is to use a pair that will allow as much airflow as possible.
A pair of slippers with open-toe or multiple cut-outs will allow excellent airflow for breathability purposes.
3. Material
The best slippers for sweaty feet are the ones made from moisture-wicking slippers and fabrics like cotton lining materials and wool which allow better airflow and provide a more comfy feeling than synthetic materials like polyester or rayon.
To prevent having smelly slippers, materials should also be washable since the sweaty foot makes the slipper prone to bacteria build-up.
4. Stability
Some slippers provide stability by keeping traction no matter what the surface is, having insoles that follow the contour of your feet to provide that perfect fit, or by having an elastic strap or goring to make sure that the slippers will not fall off during movements.
A slipper that provides great stability will give you peace of mind so you can move freely anywhere.
5. Weight
Nowadays, with the advent of technology, bulky slippers don't necessarily mean it is heavy. New materials allow these bulky slippers to be surprisingly lightweight. It's important to check on the weight of your slippers for added comfort on your feet.
Having an added weight on your foot will make it feel like you're walking uncomfortably and unnaturally.
Tips To Prevent Sweaty Feet
These slippers don't have therapeutic effects that will magically cure your sweaty feet. It helps alleviate the effects of sweaty feet. As an added preventive maintenance to sweaty feet, it is best to:
Wash your feet daily with antibacterial soap, and be sure to wash between the toes as well then dry it thoroughly afterward. This will keep your feet smelling good and feeling refreshed after accumulating all the sweat during the day.
Put on some antiperspirant powders or anti-fungal powder before slipping on these slippers.
Wear moisture-wicking socks made from natural or acrylic fiber.
Choosing the right slipper is important, it is best to try a variety of slippers to know which one is most suitable for your sweaty feet.
Final Verdict: Which One Should You Buy?
The most important feature of slipper wear should be one that is made of materials that have good ventilation without letting you feel clammy and at the same time provides ease and comfort wherever you are – inside the house or even outside.
Considering this, the Shevalues Women's Soft Indoor Slippers provide a healthy foot climate through their breathable, comfortable, and open-toe design.
It offers good arch support preventing you from sliding or slipping and a design that keeps your feet comfortable, at ease, and sweat-free. Plue is also foldable, which makes it a great companion for traveling!
If you're looking for other recommendations or you have another question, you might want to check out our other articles at Planetshoes.net.
Similar Articles: