Allbirds is one of the most sought-after brands in the fashion industry. Celebrities, environmentalists, and average Joes alike loved it!
Apart from creating exceptionally comfortable, lightweight, breathable, and stylish Allbirds shoes, they are known for producing sustainable and eco-friendly wool sneakers, wool runners, sports shoes, casual footwear, and other apparel.
Reducing environmental impact has been their top priority from the beginning.
They use recycled bottles to make laces and renewable materials, as well as natural earth produce such as eucalyptus tree natural fibers and castor bean which helps in increasing the natural content of the shoe soles.
Even their packaging is created from 90% recycled cardboard boxes!
What also makes Allbirds popular and unique is that they use superfine merino wool materials. But what makes merino wool different?
First, merino wool is noticeably softer than regular wool. Second, merino wool provides temperature-regulating properties that help control sweat and keep your feet cool, even without wearing socks! Yes, you can use Allbirds sneakers without wearing socks no matter what you're doing.
There's no doubt that Allbirds is a great shoe brand. So, who wouldn't want one? But due to its exceptional features, many will find it a bit expensive.
With that said, If you are someone who doesn't want to spend too much on a pair of shoes, we've curated a list of its best Allbirds alternatives for you.
So, if you are interested to know more about it, keep reading to help you decide which of these shoes will suit you best!
Top Shoe Like Allbirds – Best Alternatives
1. LeMouton Classic Men's Wool Sneaker
If you are looking for a cheaper wool shoe, you might consider this Lemouton classic sneaker! It's made of 100% merino wool lining and 73% merino wool outer.
Similar to Allbirds, Lemouton's sneaker is moisture-wicking, super lightweight, flexible, and breathable. It's a wool upper which makes it suited for everyday wear. You may also use this without socks and still keep your feet cool.
Its sole is made of synthetic rubber for reliable traction. It also has a similar style to one of Allbirds product lines. It is available in six colors and in sizes eight to 13 and has a women's counterpart.
These wool sneakers are easy to clean too! Just toss it inside a washing machine then air dry it and you're done!
Pros
Made of merino wool
Comfortable shoes
Good arch support
Non-slip outsoles
Machine washable
Eco friendly
Highly breathable
Lightweight
Offers a wide range of variety of colors to choose from
Interchangeable insole
Cons
The fabric has chances of getting ripped off after some time
Interested? Check it out on this link!
2. Adidas Women's Cloudfoam Pure Running Shoe
Product Description
Coming from a well-known brand, this Adidas Women's Cloudfoam Pure Running Shoe can be a great alternative for Allbirds tree runners with a more affordable price point.
Though it is purely made out of synthetic materials, it still gives a "walking on clouds" feel because of its soft mesh style fabric and a Cloudfoam cushioning. It also has a memory foam insole for added cushion and comfort so your feet won't ache.
This comfortable shoe perfectly snugs around your feet for stability, it has a rubber outsole that provides grip and traction. It is available in smaller sizes from 5 to 12 and has a wide variation in colors.
Pros
Super light on feet when worn
Elastic laces for more convenience
Extremely flexible to wear
Has extra cushioning for all-day comfort
Highly breathable
Great shoes for those running and active people
Cons
Dirt can be hard to remove
Interested? Check it out on this link!
3. Urban Fox Men's Parker Wool Sneakers | Wool Shoes | Runners Running Shoes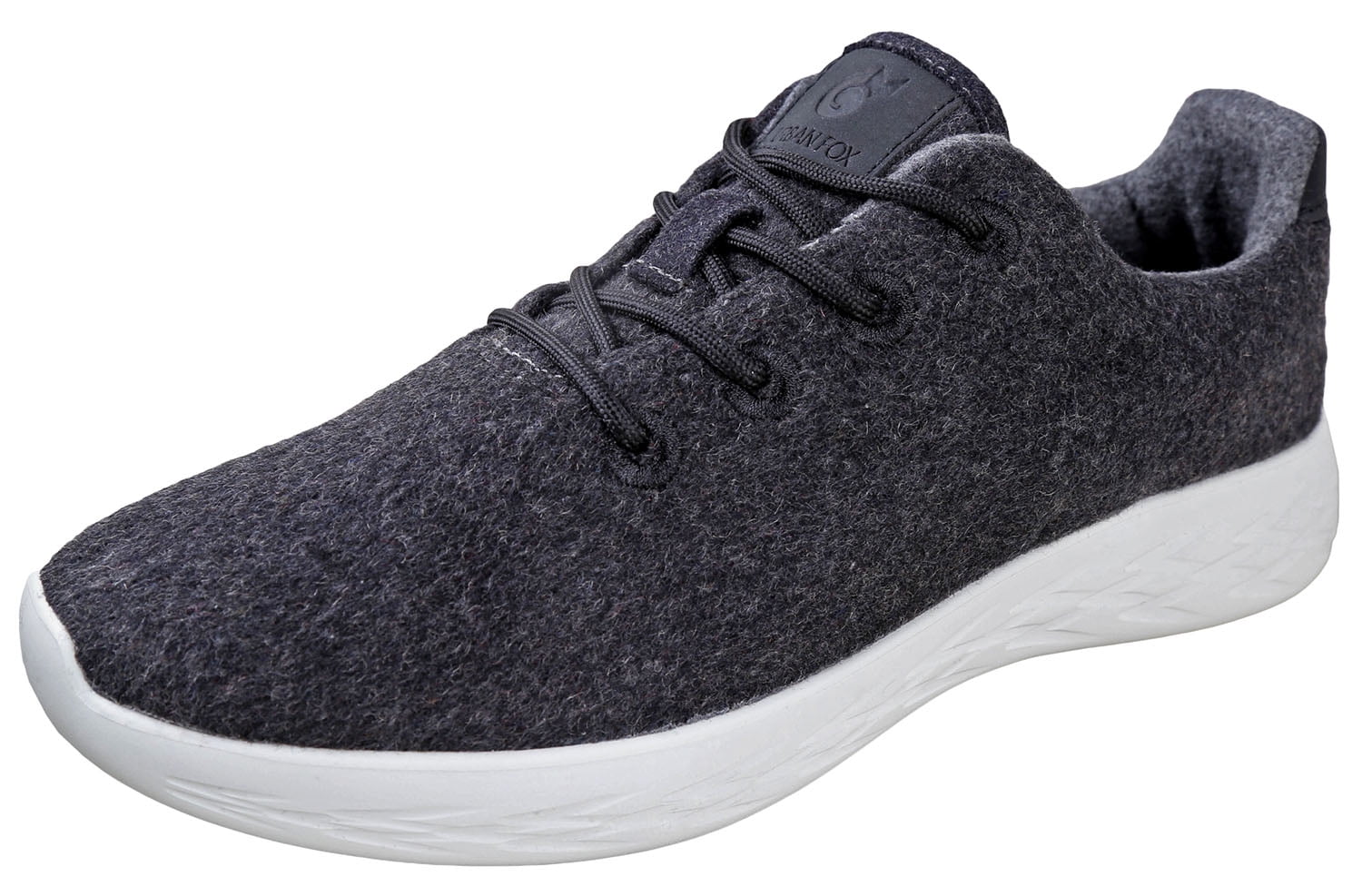 Product Description
If you love Allbirds wool runners, these running shoes for urban fox can be a great substitute!
It is made from wool and polyester blend which is incredibly comfortable when worn. It comes with adjustable laces for a personalized fit.
This Allbirds alternative has well-designed insulation and support thanks to its thick padded insoles. It also features a foam rubber sole that absorbs shock and is highly durable.
Though the urban fox lacks a little when it comes to overall polish, both do have some comparison, mostly style and look.
Originally, the Urban fox was only making shoes for men, but later has also produced women's footwear. However, they have not yet created a women's version of the parker shoe.
Pros
Cheaper alternative to Allbirds wool runners
Durable
Breathable
Flexible to wear
Comfortable to wear
Made from 70% wool and 30% polyester
Variety of colors to choose from
Cons
Some find it too narrow on toes
Interested? Check it out on this link!
4. Dr. Scholl's Shoes Women's Luna Sneaker
Product Description
Another good Allbirds alternatives as they come with excellent features are these stylish shoes from Dr. Scholl's.
These are made from soft microfiber material that provides maximum comfort even when worn for long hours.
It has a breathable woven fabric with perforated details that allows air to move in and out keeping your feet feeling cool. Its slip-on style saves you time especially if you are in a hurry to hang out with your girlfriends.
Pros
Breathable
Easy to wear
True to size
Can be used as everyday wear
Comfy and lightweight
With exposed twin goring for extra flexibility
Offers a wide variety of colors to choose from
Cons
Quality is not that durable
Interested? Check it out on this link!
5. Steven Women's Traveler Lace Up Sneakers
Product Description
Comes in lace-up closure and merino wool outers, these great shoes from Steven Women's Traveler Sneakers make a stylish Allbirds alternative.
Like Allbirds shoes, these wool sneakers are super comfortable and lightweight. It also provides that comfortable warm feeling on your feet. Available in sizes 6 to eleven and in black and grey colors.
With their neutral colors, these will look and blend great with any outfit you wear!
Unlike other shoes, these shoes run pretty wide which makes them ideal for those with naturally wide feet.
Pros
Lightweight
Comfortable 
With added extra width to the heel for stability
Great for standing all-day
Ideal for those with naturally wide feet 
Cons
Its naturally wide size is an issue to some in terms of fit
Interested? Check it out on this link!
6. KEEZMZ Men's Running Sneakers
Product Description
Though not a wool sneaker, KEEZMZ Men's Running Shoes can be a great alternative to allbirds!
Just like allbirds, these sneakers have excellent breathability and are super lightweight.
It is also made from safe environmental protection material. Its outsole is made of a high elastic MD outsole that is slip-resistant to any type of surface with extra width around the heel that helps improve stability.
Its design is simple yet suitable for almost all occasions. Wear it indoors or outdoors, use it for sports or casual wear, it's a versatile shoe. The best part is, it's comfortable without putting a strain on your pocket.
The KEEZMZ Men's Running Shoes has been in the market for quite some time now, a testament to its ever-growing patronage from a discerning market.
Pros
Super lightweight
Breathable
Comfortable
Provides a great level of traction
Offers a wide range of different color selection
Affordable yet made from quality materials
Good for running and other exercises
Cons
Fabric material can be difficult to clean
Does not dry quickly
Interested? Check it out on this link!
7. Skechers Women's Cleo-Scalloped Knit Skimmer Ballet Flat
Product Description
Sketchers has been a leading innovator in the footwear fashion industry that manufactures trendy and award-winning shoes both for men and women ever since!
The engineering and design concepts behind their shoes weren't just pulled out of thin air, they've gone through some research and development to provide quality shoes for different market segments.
And if you are looking for the best shoe alternative to allbirds Tree Breezers, then these Skechers Women's Cleo-Scalloped Knit Skimmer is the one for you!
Made with special air-cooled memory foam, these provide great comfort when worn for a long period.
It is made out of knitting fabric with a cute scalloped design, The soft stretchable woven fabric upper provides great comfort and a high level of breathability.
Pros
Offers a variety of colors
Lightweight
Very comfortable to wear
True to size
Stylish
Can go well with any outfit
Easy to clean: machine washable
Cons
Too tight on the toe for some as it has a pointy tip
Interested? Check it out on this link!
8. Baabuk Urban Wooler Sneaker
Product Description
This Baabuk Urban Wooler Sneaker is made from merino wool and has 100% wool upper, which makes it a great alternative to allbirds wool shoes!
Its wool outer makes them water-resistant and helps keep feet warm, dry, and comfortable. It comes with elastic laces that make slipping on and off the shoes more convenient.
It also allows your feet to have some room to breathe by making sure the tightness is just right on top of the wool's natural breathable properties.
With TPU rubber outsole that is resistant to water, oil, and grease, adding stability to any movements in your modern lifestyle.
And just like allbirds, this wool sneaker can be machine washed for ease of cleaning!
Pros
Machine washable
Has elastic laces that provide more convenience
Cozy and comfortable to wear
Perfect for everyday wear
Offers 3 amazing colors to choose from
Made out of 100% wool material
Cons
Can be difficult to clean
Interested? Check it out on this link!
9. GIESSWEIN Merino Runners
Product Description
Giesswein shoes are known to pick quality wool materials for their products since they have a philosophy that high quality starts with the selection of the finest materials. Their brand has become one of Europe's largest producers of 100% wool clothing.
Their Merino Runners is no exception, it is made of 100% natural materials. Like any other Merino wool-based shoes, the natural moisture-wicking and temperature regulating properties make this shoe perfect for sports or casual wear.
It prevents odor from accumulating and regulates the temperature inside to keep you feeling cool and dry.
The footbed is replaceable for you to adjust comfort and support according to your preferences.
It also comes with a separate set of laces in different colors to adjust to your style.
Pros
The insole can be interchanged
Extremely comfortable to wear
Comes with extra laces
Made from 100% Merino wool
Simple and elegant casual design
Replaceable merino footbed is also based on vegetable oil (Castor Bean Oil)
Made from 100% Natural materials
Cons
More expensive than other choices in this list
Interested? Check it out on this link!
10. Dr. Scholl's Shoes Men's Elwin Sneaker
Product Description
Dr. Scholl's brand has been in the shoe industry for a long time and their products are known to provide legendary comfort, style, and affordability. From shoes, sneakers, sandals, and related accessories, they definitely have the experience of how to make their products last.
The Elwin Sneakers is no top-of-the-line product but it features the qualities Dr.Scholl's shoes are known for: comfortable, handsome design, supports your feet properly, and affordable.
Its fabric is made of soft mixed suede material with a padded collar so it can be comfortable even without socks just like allbirds!
Pros
With Comfort Insole Cushioning Technology
Lightweight and sporty design
Affordable
Fits great on the feet
Machine washable
True to size
Flexible
Option to choose from either knit fabric or wool material
Offers a variety of colors to choose from
Cons
Not water resistant
Sole can be slippery on wet surfaces
Interested? Check it out on this link!
11. Skechers BOBS Phresh-Lil Flash for Women
Product Description
Another great product from Skechers, If you are someone who loves traveling most of the time. then this Skechers BOBS Phresh-Lil Flash for Women is suitable for you!
Made from boiled wool oxford with memory foam, these will surely keep your feet happy and pain-free from all the walking when traveling. You can wear these with or without socks without causing your feet to blister.
It has great traction on the soles which keeps you feel secure when walking on any surface.
Pros
Great for traveling
With flexible sole
Comfortable when worn
With memory foam footbed
Slip-resistant sole
Great flexibility
Cons
No other color to choose from
Interested? Check it out on this link!
12. Red Train Merino Wool Sneakers
Product Description
Comfort, lightweight, breathable and stylish is what makes Red Train Merino Wool Sneakers one of the best shoes alternative to allbirds!
It is made from 70% merino wool upper and 30% nylon which provides great flexibility and support while allowing your feet to move freely and comfortably.
No matter where you are going, its dark gray wool will look great for casual or even office attire!
What's great about this is that they provide extra shoelace and shoe bags for your convenience!
Pros
Includes extra shoelace and shoe bag
Extremely comfortable to wear even for a long period of time
Lightweight
Breathable
Goes well on any outfit
Good shock absorption
Made from high-quality wool outer
Cons
No other colors to choose from
Interested? Check it out on this link!
What to Consider When Buying
Here are some factors to consider when you're looking for the best shoe like Allbirds, these includes:
1. Comfort
Allbirds wool sneakers and shoes are known for their extreme comfortability and lightweight feel due to their merino wool fabric.
Its sole is made of low-density foam giving you a 'walking on cloud" sensation, which is Allbirds best-selling feature and an attribute you want to be looking for in your shoes.
2. Size
As a rule of thumb, your shoes shouldn't be too loose nor too tight. It should also provide enough allowance and room to wiggle your toes.
With the right size, that will allow you to wear it comfortably all day.
3. Style
Aside from the above-mentioned features, your personal style is also an important factor to look into when buying shoes. Despite all other good qualities, if it doesn't suit your style and is not within your preferences, I guess you wouldn't be that happy. So, feel free to choose a style that will reveal your personality.
4. Material
If you are looking for the best shoes, it should allow you to wear them for a long period of time without causing blisters or foot pain. It is best to choose a pair that is sturdy, flexible, breathable, lightweight, and comfortable.
5. Sole
The sole of the shoes can help determine the durability, comfortability, and quality of shoes. Consider checking from insoles to the midsoles and rubber outsoles when choosing the best shoe alternative.
Final Verdict: Which One Should You Buy?
Our top pick as the best Allbirds alternatives shoes would be the LeMouton Classic Men's Wool Sneaker.
What we love about these shoes is that like Allbirds, they are super lightweight, flexible, breathable, and comfortable. It has a rubber outer sole that is skid-resistant. They are also machine washable for easy cleaning!
However, the final choice will depend on your personal style or preferences as well as your budget. Choose what will really make you happy and satisfied or something that would match your current set of clothes you already have in your closet!
We hope someday, just like Allbirds, more brands will start to use more sustainable methods coming from natural materials to create high-quality eco-friendly apparel!
If you like this article, you might want to check out our other articles at Planetshoes.net.