Suppose you're planning to go snorkeling and doing other water activities. In that case, you might want to invest in a good pair of water shoes. Finding the appropriate footwear allows you to enjoy snorkeling and other activities without any worries.
Aqua shoes are the best type of shoes to wear if you also want to feel safer and protect your feet in the water. You can enjoy your time spent by the sea and doing other beach activities.
If you're interested to know more about the best water shoes for snorkeling, keep reading to find out! We've curated a list of the best finds for every age and type of swimmer.
What to Look for in a Water Shoe for Snorkeling?
Before making that purchase, here are a few features that you need to consider first when looking for water shoes for snorkeling. These features are necessary to ensure safety and protection for you whenever you're in the water.
1. Sizing
When buying shoes, sizing is one of the most critical features to consider. Besides, it is you who will wear the shoes anyway. Wearing the wrong size can make you feel uncomfortable, or worse, can lead to foot injuries or conditions.
The right pair of shoes, even if you're underwater, must fit your feet well. It should not be too tight or too loose. It must fit right and provide you enough allowance and wiggle room in your toe box.
2. Quick-drying
Since you'll be underwater most of the time, you might want to look for shoes that quickly dry off once you get out of the water. This specific feature is super convenient for you, so you don't have to leave it in a warm area and wait until it dries.
3. Sole quality
Shoes are not originally invented to be waterproof, but the sole quality is another crucial feature to consider when buying shoes. From the insole to the midsole to the outsole, it should be manufactured of top-quality material mainly if it will be used underwater.
Some examples of soles you can consider buying are slip-resistant, made out of rubber and EVA cushioning. Soles with quick-drying draining holes are also perfect when looking for aqua since it helps flush out all the water.
4. Durability
Durability is another feature to look out for when buying water shoes for snorkeling. Since you'll be in the water for an extended period, it's best to buy shoes that are made of durable and high-quality material.
A good pair of water shoes that has a durable sole and mesh upper allows you to enjoy snorkeling and doing other activities without any worries and fears.
5. Material
Depending on what type of water activity you do, a good pair of water shoes should be made of synthetic mesh or Neoprene. Mesh water shoes allow water access and are suitable for freshening. This material isn't just good for snorkeling, both for doing other water sports too.
On the other hand, Neoprene is perfect for cold water or looking for shoes that let too much water in. Water shoes that include Neoprene offer you an extra level of thermal insulation protection.
Top 5 Best Water Shoes For Snorkeling
1. Mishansha Men's Water Shoes
Product Description
These Mishansha Men's Water Shoes are the perfect quick drying aqua water shoes due to their amazing features. These are not only suitable for snorkeling, but also for any water activity you plan to do.
This footwear is manufactured with a slip-resistant water sole and a Spandex Fabric material for the upper portion. This feature offers you breathability, flexibility, and comfort during your snorkeling session.
The sole has water drainage holes built into it and allows for water to flow out. This feature ensures you a quick-dry feel and comfortable wear.
Suppose you're looking for a specific look and feel for your ideal footwear. In that case, the Mishansha water shoes are available in various styles to choose from and nearly 40 different colors.
Another thing to admire about the Mishansha water is its pull tab at the heel, which makes wearing and taking off your shoes more comfortable. You don't have to deal with the annoyance of tying your shoes. Just slip it on, adjust the elastic straps, and you're ready to go.
Pros
Has a slip-resistant water sole
Includes draining soles that dry quickly
Offers a Spandex Fabric material for the upper portion
Provides comfortability, flexibility, and a quick-dry feel
Made out of stretchable, breathable, and lightweight Lycra material for fast draining and cross ventilation
Includes a pull tap heel; quick and easy entry and prevents feet from dripping off
Features elastic straps
Cons
Fabric might shred
Shoelaces might easily break
Not durable enough
The ink of the water shoe might spill and stick on your feet
2. Speedo Surfwalker Pro 3.0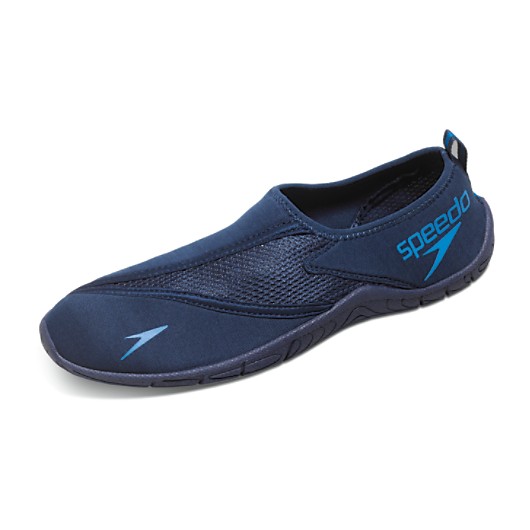 Product Description
Speedo designed these snorkeling water shoes to take you to the sea or ocean with total comfort. This water shoe is made with 100% neoprene for the upper portion of the issue and a rubber sole. They are available in five different colors and several styles to select.
These shoes are perfect and made out of lightweight and breathable materials. These shoes dry quickly and will assure you that your feet will remain comfortable in any environment.
If you have snuggly feet, you will admire these shoes for being stretchable. It's stretchable upper offers you a secure fit and a pull-on entry.
Another feature to admire about these water footwear is their excellent sole quality. Its S-trac outsole offers a no-slip grip, which prevents you from future accidents and streams water away from the water shoe. This key feature enhances direct surface contact for even high traction, too.
Meanwhile, its cushioned insole provides you excellent impact protection. Lastly, this includes a seaweed massage footbed that forms comfortability to your foot. The Speedo Surfwalker 3.0 is one of the best water shoes for men and they're worth a try.
Pros
Has 100% Neoprene upper
Includes a rubber sole
Stretchable, good for snuggly feet
Available in five different colors and several styles
Made out of lightweight and breathable materials
Updated Speedo water shoe
S-trac outsole offer no-slip grip
Cons
Shoe pads might separate from the shoe surface
Does not drain water well
Has an unpleasant smell
The fitting might be too tight
3. Zhuanglin aqua shoes
Product Description
Moving on to women's water shoes, these aqua shoes by Zhuanglin are constructed with 90% fabric material.
These rubber-soled shoes are also ideal for giving you high traction when engaging in underwater sports. Its Water grip outsole offers you exceptional traction in wet and slippery conditions.
Whether you're snorkeling, surfing, and doing other water hobbies, this shoe is a must-have!
It features a patented ComforDry sock liner that offers added cushioning and keeps your feet dry, creating an overall healthier shoe environment. Another factor in admiring this aqua shoe is their mesh material, which is supremely breathable and dries quickly.
For the sole quality, its midsole is designed with unique lightweight material. This particular material provides plenty of bounds while still maintaining durability. Your feet will remain comfortable no matter how long you stay in the water, thanks to its breathable design.
Pros
Available in more than 20 colors and styles
Constructed with 90% fabric material and rubber soles
Patented ComforDry sock liner offers added cushioning and dries quickly
Features a durable and breathable mesh upper that dries quickly
Designed with Solyte midsole, a unique lightweight material that provides excellent bounce-back and durability
WaterGrip outsole offers high traction in slippery and wet situations
Includes a breathable design; provides comfortability
Cons
Shoe materials might give you rashes and make your skin itch
Soles might be sewn poorly.
Has an unpleasant smell after using
4. Aleader Water Shoe
Product Description
Aside from snorkeling, this slip-on water shoe by Aleader is perfect for doing other activities like jogging on watery trails, boating, and kayaking. Its lightweight yet durable construction allows you to do more activities and enjoy them immensely.
These shoes also provide excellent quality for the sole. The outsole includes a water green, designed to offer you an enhanced traction level in moisture-prone situations. They are exceptionally breathable thanks to their durable material fabric construction of the upper.
Pros
Available in 17 different colors and styles
Includes a green water outsole, which offers an enhanced traction level in moisture-prone situations
Solyte midsole provides lightweight, durable, and bounce-back
Water Drain outsole provides excellent traction for slippery and wet situations
ComforDry sock liner provides optimum cushioning
Offers exceptional breathability and comfortability
Constructed of a stable, mesh upper
Cons
Ink might spill and stick to your feet
Has a chemically unpleasant smell
Inner mesh fabric might be itchy to the skin
5. CIOR Water Shoes For Kids
Product Description
Suppose you have a toddler who also loves snorkeling and doing other activities. In that case, these CIOR kids' snorkeling water shoes might be what you're precisely looking for to buy. This shoe features excellent arch support for kids out there while allowing them to develop their natural foot muscles.
One key feature of these kids' water shoes is their sole excellent quality. The insole provides cushioning and breathability with holes made of EVA materials. This feature helps absorb shock and reduce muscle fatigue in your kid's legs and feet.
These water footwear provide flexibility, which allows your kid to continue exercising his feet's muscles without the sole's support. They are suitable for giving extra protection to your child's feet. Moreover, these are the best water shoes for children who enjoy snorkeling, fishing, and playing in the pool or the beach.
However, one downside of these CIOR water shoes is that it is only available in a single color option.
Pros
Has a non-slip-resistant, rubber sole
Features a stretchable, breathable, lightweight, and quick-drying upper
The insole provides shock-absorbing EVA cushioning, which reduces muscle fatigue in legs and feet
Suitable for both young boys and girls
Renders flexibility
Gives extra protection to a child's feet
Provides excellent arch support, allowing kids to develop their foot muscles
Cons
Has only available in one color
Footbed might come off easily
Offers only limited sizes
So, Which One Should You Buy?
Snorkeling is one of the most fun and exciting water sports. It is best to look for water shoes appropriate for this specific hobby to ensure safety and protect your feet.
Before making a purchase, it is essential to consider a few features first to endure the value of your money spent. Luckily, many footwear brands produce top quality water shoes, and we've curated a list of the best shoes for you.
We highly recommend Mishansha Men's Water Shoes. These slip-on shoes are slip-resistant, dries quickly, and offer excellent sole quality. Lastly, it leaves you with a lightweight breathable feel. If you have a personal taste, you can choose from a variety of colors and styles.
Similar Articles: