So, you're looking for some steel toe shoes or probably your boss has required you to invest in a pair to keep your feet safe while in the workplace.
The criteria would have been easier but what if you have flat feet? You may be safe from workplace hazards, such as falling objects or things that could pierce the footwear sole, but can it firmly cup your heel and offer comfortable arch support for your fallen arches?
Choosing a pair of work boots or shoes that combines safety, style and comfort could be a challenge. If you're interested to know more about steel or soft toe shoes for flat feet, keep on reading.
We investigated further about the comfort features and have provided you a list of the best work boots ideal for those with flat feet. Hopefully, this will save you time searching online.
Top 5 Steel Toe Shoes For Flat Feet
1. Wolverine Buccaneer
Product Description
The Wolverine Buccaneer (Dark Brown) boots are made of 100% leather. It has a rubber outsole and a removable full-cushion footbed for extra comfort and support. Among its noteworthy safety features are that it is durable and waterproof to keep your feet in comfort all day at work. The padding around the ankle of these safety toe shoes protects your feet from any impact. It also comes with a choice of steel or soft toe.
With its Moisture Managing mesh linings, these Buccaneer boots for flat feet also help increase the ventilation and circulate the air so the feet can cool down. The material moreover removes the sweat more quickly. Begin your workday off on the right foot with Wolverine Men's Buccaneer today!
Pros
Rubber sole
100% Leather
Nylon shank
Wolverine multishox contour welt construction
Moisture-managing mesh linings
Aesthetically durable
Cons
Not as protective (against punctures) when compared to solid steel or soft toe boots
Interested? Check it here!
2. Timberland Pro Pitboss
Product Description
The Timberland Pro Pitboss is an ideal industrial and construction shoe. Its Thermoplastic Urethane sole offers flexibility, premium slip resistance for slippery or uneven surfaces, and resistance to temperatures of up to 130°C (266°F). This means that it is highly resistant to most chemicals and oils.
Moreover, this Timberland toe boot has waterproof leather upper, meaning it is solid all the way to the top of the shoe tongue. So, pretty much the entire boot is waterproof. The Timberland Pro Men is best for all-day standing too! It is designed with a Timberland PRO 24/7 comfort system that helps reduce foot fatigue. What a comfort it would be for people with fallen arches.
Pros
Thermoplastic Urethane sole
Odor Control
EH rated
Waterproof leather upper
Slip resistance
Electrical hazard protection
Large toe box
Padded collar and removable sock liner
Cons
Poor eyelets durability
Hard to size
Interested? Check it here!
3. Carhartt CMW6220 Work Boot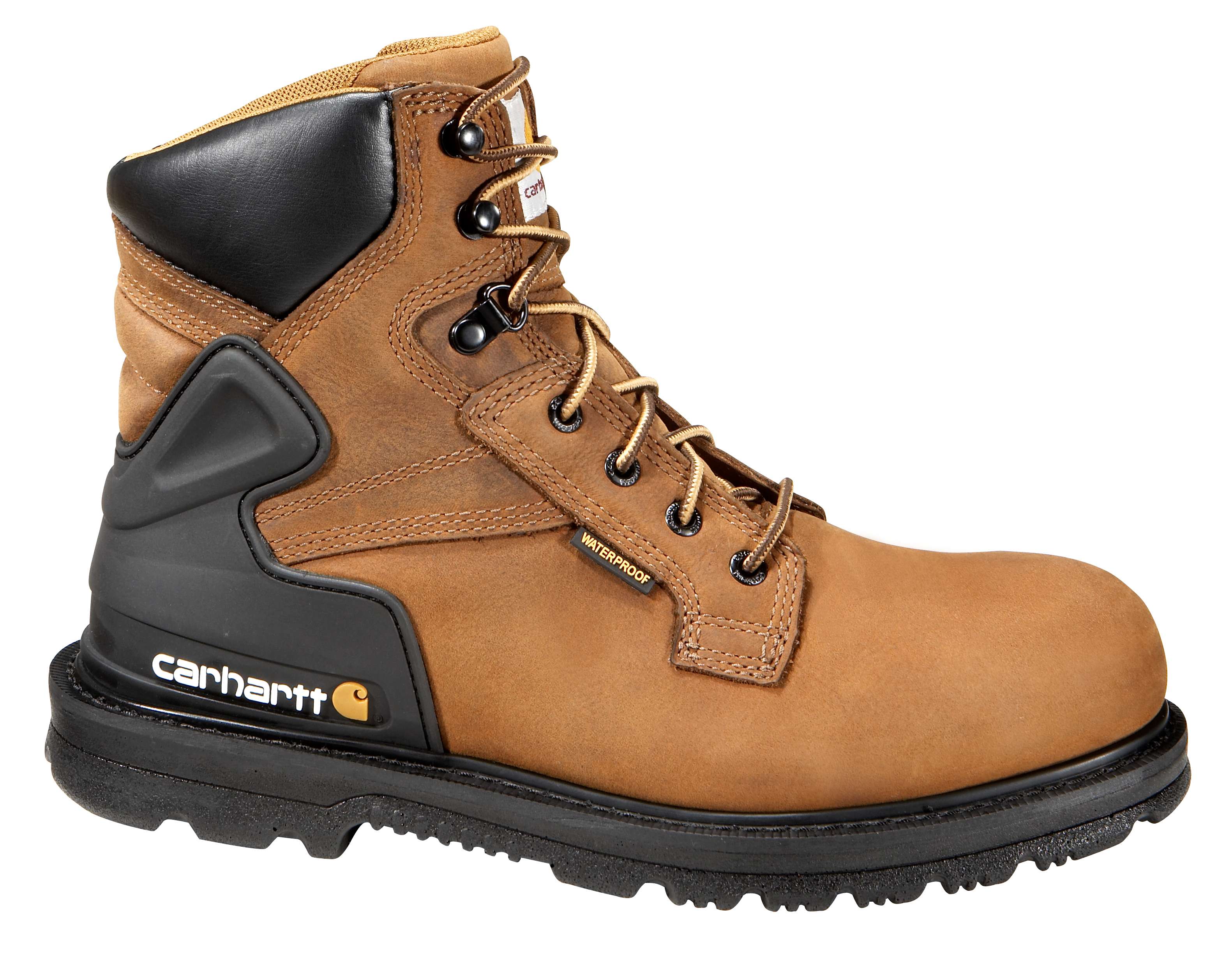 Product Description
For ultimate workplace footwear, step into Carhartt CMW6220 Work Boot. It is now one of the best work boots for flat feet in the market and is comfortable to wear whether you're out in the field or at work. Its waterproof interior protects the feet against workplace hazards and elements while the Thermoplastic Polyurethane (TPU) stabilizers ensure the wearer's safety in every step. Such a TPU heel guard is designed to provide heel protection durability, side-impact protection, and ankle stability. These work boots also provide arch support and won't ever disappoint you in terms of looks.
Pros
Rugged Flex technology
100% Leather and Synthetic
Synthetic sole
Waterproof
Boot opening measures approximately 11″ around
Odor control
Cons
Wide shoes do not fit true to size
Interested? Check it here!
4. Red Wing Heritage 875
Product Description
Perfect for work and play, the Red Wing Heritage 875 looks good in a casual work environment. It features durable rubber linings, high-quality stitch construction, and nickel eyelets. For added protection and a more work-appropriate look, safety toes can also be added to these work boots for flat feet. Plus, there are plenty of colors to choose from, making it one of the best-looking work boots on the market today.
Pros
100% Leather
Synthetic sole
Outsole – Traction Tred Cushion Crepe Wedge
Features nickel eyelets
Cons
Costly compared to other basic leather boot
Interested? Check it here!
5. Thorogood Men's American Heritage Work Boot
Product Description
Mile after mile, day after day, you can rely on the quality and comfort that the Thorogood Men's American Heritage brings for those with flat feet. Its fiberglass shank feature provides support and the toe design meets the American Society for Testing and Materials (ASTM) F 2413-05 M/I/75/C/75 safety standard.
To add to the comfort of these work boots for flat feet, it comes with an extra ankle upper. This extra cushioning protects the ankles from the impact of falling objects, especially when used in the work environment.
People with flat feet will likewise love its Goodyear welt construction, guaranteeing a really durable work boot. Breathable, durable, and stylish. These work boots for flat feet is definitely one of the best work boots you can find in the market today.
Pros
Fiberglass Shank
Rubber sole
Slip-Resistant
Non-marking
Provides Electrical Hazard Protection
100% Rubber
Cons
Interested? Check it here!
What to Look for in Steel Toe Shoes For Flat Feet?
Before buying a pair, remember there are characteristics to a good shoe. The price and the brand are not just the only factors to consider. Check also if the work boots for flat feet has the following features:
1. Support
The common perception is that work boots for flat feet are not as comfortable as regular shoes, but it's not really the case.
As long as the shoes provide arch support and are designed with proper cushioning, then you will actually be making your feet happier than wearing regular shoes.
You are not only safe against workplace hazards but you also lessen the risk of pain and injury on any part of your foot structure caused by having flat feet.
2. Comfortability
Wearing inappropriate shoes if you have fallen arches can cause several health issues, not just bunions and calluses. It may lead to foot, heel, and ankle pain as well as leg, arch, and foot fatigue. To avoid these, wear a pair of work boots that are comfortable for your feet.
3. Sizing
The work boot that you should buy should be roomy enough with sufficient room for both depth and width for your toes.
That way, your foot can lengthen up to a centimeter, or your toes can spread out during normal work or walk day regardless of the direction you take.
As such, pick the best work boots that are a little longer than your longest toe by about the same width as your thumb.
4. Durability
Don't do your flat feet a disservice by buying one that will only last for a few months. Invest in durable and high-quality work boots to keep your foot safe.
Since it is durable, you can also use it for longer periods when necessary. This is especially helpful for those in manual labor industries.
5. Design
Prioritizing the safety and comfort of your feet doesn't necessarily mean foregoing the design. Make sure to find one with a nice pattern, shape, or is made of quality material.
After all, you may be using it beyond working hours. Might as well look trendy on the occasion that you will be attending too.
So, Which One Should You Buy?
Keep in mind that having a reliable and sturdy pair of safety boots is important if you're working in an environment with the potential to injure your feet.
But working long days with flat feet can be both painful and frustrating by the end of your shift too. Finding the best work boots that meet both safety and comfort for your flat feet will give you unparalleled flexibility.
We're generally fond of the Timberland Pro Men Pitboss among the choices above because it is both practical and stylish. These particular safety toe work boots have a slip, abrasion, and oil-resistant outsole and provide electrical hazard protection, which is all essential for those working around open circuits.
Not only that, its patented SR Max MaxTrax slip-resistant tread design helps resist slippery surfaces.
If you like this article, you might want to check our other articles at Planetshoes.net.
Similar Articles: