Snowboarding is a fun winter sport and is good for your health, both mentally and physically. It helps increase your flexibility, improves your balance, burns calories, pumps endorphins, and strengthens leg muscles, among others.
But snowboarders with wide feet often have a hard time finding snowboard boots that are a comfortable fit. So, they would try to compensate for their issue by wearing boots that are three to four sizes bigger than what is normal for their foot size.
Unfortunately, they would run into common problems again, such as poor durability, too much ankle or foot movement, and heel lift, after spending some time snowboarding.
It's like always a trial and error to find the best wide snowboard boots that are good for wide feet.
We, at Planetshoes.net, provide you a list of the best snowboard boots for wide feet, vetted by wide snowboard boot users themselves. We gathered and analyzed comments and reviews online to come up with the list below to help you enjoy a good boarding day!
Top 5 Best Snowboard Boots for Wide Feet
1. Burton Ruler Snowboard Boot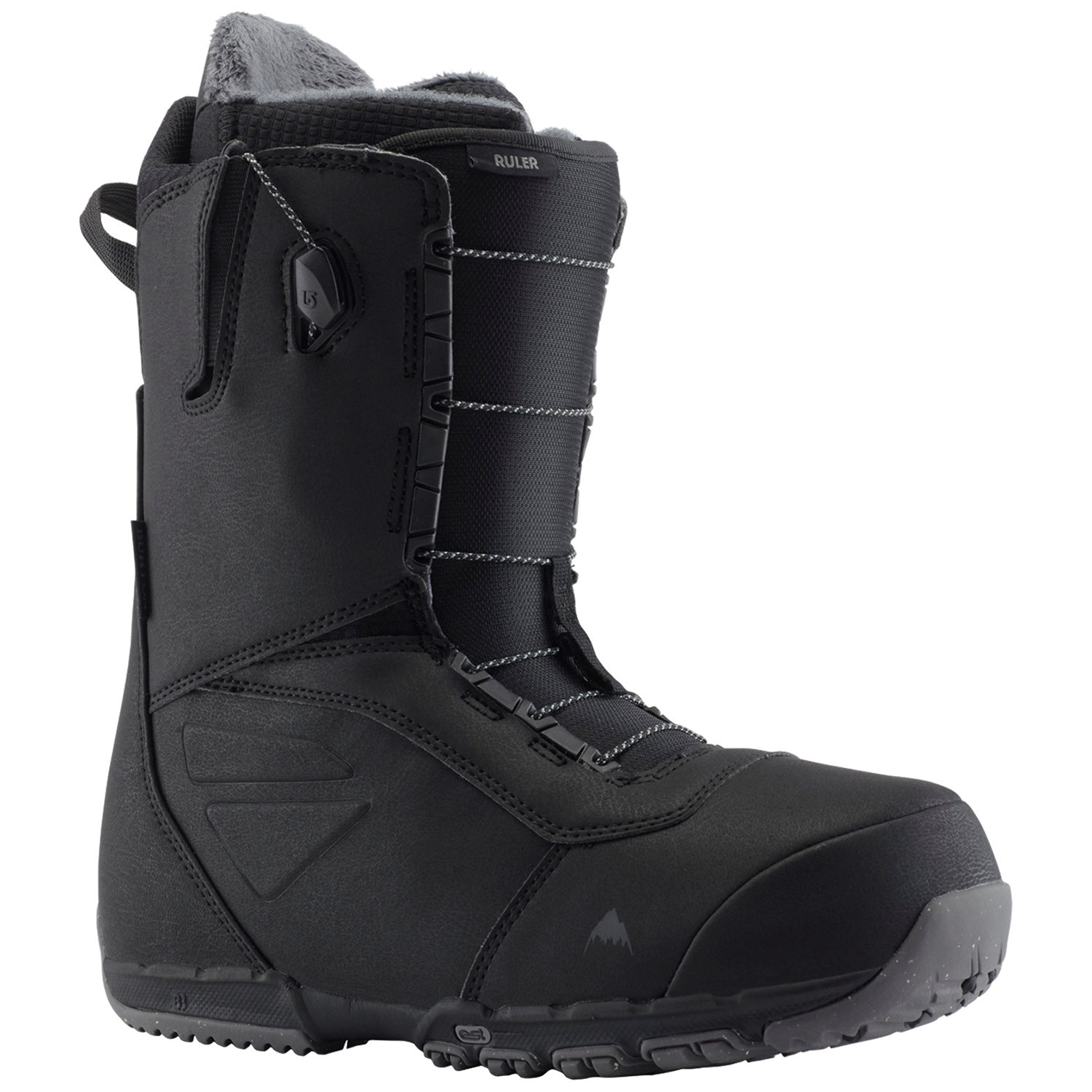 Product Description
One of the oldest boots in the product line of Burton, the Burton Ruler is comfortable, responsive, and fits the feet of various snowboard riders.
From park to mountain peak, no boot has ever elevated more riders with the time-honored performance and comfort than what Burton Ruler Wide does. It has 3M Thinsulate Insulation in the liner to keep your feet warm regardless of how cold the winter gets.
The Total Comfort Construction of Burton Ruler Wide further provides a broken-in feeling, reducing the break-in period. It is one-of-a-kind snowboard boots, we can say because it has a snow-proof internal gusset that seals the boot's lower zone.
As a result, it keeps your feet dry and warm. The Burton Ruler Wide also features a speed zone lacing system that allows fast lacing control as you customize the lower and upper zones in seconds.
Why We Love It
Good cushioning system
Easy to re-lace with its fast lacing system
Keeps feet warm and dry
snow-proof
Comfortable and warm entrance into the boot because of the fuzzy and soft fur
Articulated cuff
Wide forefoot and toe box
What We Didn't Like
Synthetic leather not as super durable as other wide boots for snowboarding
Not bargain-basement price point
Interested? Check it out on this link!
2. Salomon Dialogue Focus BOA Wide Men's Snowboard Boots
Product Description
The Salomon Dialogue Focus BOA Wide Men's Snowboard Boots are designed by snowboarders for snowboarders. This pair of snowboarding boots are meant to make every side and every day on the mountain more fun.
Lacing up these Salomon dialogue wide boots is fuss-free. Thanks to the Dual Zone Boa lacing system that allows riders to adjust the articulation of both upper and lower zones of the boot.
The Salomon dialogue wide snowboard boots also have a DAMPLite+ outsole for energy transmission and shock absorption.
Why We Love It
Shock absorption DAMPLite+ outsole
Heel grip
Maximum energy transfer
Quick-dry insole
Heel cage
Full custom fit and progressive flex
Ortholite C2 footbed
Fuss-free lacing system
Interested? Check it out on this link!
3. K2 Maysis Snowboard Boots – Wide
Product Description
The K2 Maysis Snowboard Boots snowboarding boots are equipped with Boa Conda Liner Lacing, a lacing system that utilizes urethane to gently cradle your ankle. The same patented lacing system allows for adjusting the heel hold and liner tightness on the fly from the outside of the footwear.
The reason why we included this on the list of the best snowboarding boots for wide feet is that it has a 7 (1 Soft and lightweight – 10 Stiff) flex rating and an EVA insole to provide all-day support and comfort.
The K2 Maysis is also a good choice as it is engineered with vibration and impact absorption making your wide feet less fatigued.
Why We Love It
It has a flex rating of 7 (1 Soft – 10 Stiff)
EVA sole / 3d molded EVA foam
Great traction and on and off ease
Easy and even lacing operation
Keeps your foot dry and safe
What We Didn't Like
Not waterproof. Few wearers say after long rides, the boots may leak moisture under the insert although dry on the inside
Interested? Check it out on this link!
4. Salomon Snowboards Hi Fi Snowboard Boot – Wide
Product Description
The Salomon Hi-Fi snowboard boots work great for snowboarders who are into knee-breaking stunts. It's sold in deep blue/black and black.
It has a heat-moldable liner that safeguards your ankles, shins, and foot against injuries related to snowboarding and makes it on par with the higher price boots. It also has a simple and superior lace lock. Just one pull and flick of a switch and you're ready for snowboarding.
The way the laces are designed in these snowboard boots allows you to tighten the boots quickly even if you have no gloves on.
The Othorlite C3 footbed feature likewise provides cushy comfort and support that keeps your feet warm.
Why We Love It
Comes with a heat-moldable liner
Broke-in feel
Comfortable and light
Durable
Speed lacing system
What We Didn't Like
Limited color options
Premium pricing
Interested? Check it out on this link!
5. Thirtytwo Men's TM-2 Double Boa Snowboard Boot
Product Description
The Thirtytwo Men's ™-2 Double Boa wide snowboard boots gained very high ratings on Amazon. It has a perfect mix of comfort, flex, and support with a rubber outsole to help you cling to any terrain comfortably.
Fitted with the Double Boa closure and 7/10 medium flex, these iconic snowboard boots are a good choice for those with wide feet. You can use this for all types of riding, such as a mountain, freestyle, urban, background, or park
The Thirty Two TM-2 wide boots are also designed with dual density intuition foam to provide maximum comfort and enough stiffness for additional spine and forefoot support.
This is the pair of snowboarding boots that we think every snowboarder should have.
Why We Love It
Lace-up closure system
3D molded tongue for even flex
Enhanced spine support
Dual-zone precision fit
Comfortable performance footbed
Feels light than other
With heat molding
What We Didn't Like
Few says the boots are fantastic on the board, but not exactly when hiking
Interested? Check it out on this link!
What to Look for in Snowboard Boots for Wide Feet

Size/Fit
Some telltale signs to determine if one has wide feet is that they often have blisters or that their feet usually feel cased-in in almost every pair of shoes supposed to be their foot length. 
As such, it is important to choose well-fitting wide snowboard boots so you can enjoy your sport more. Remember that boot size and shoe size are not the same. So, try to get on a pair of cold weather socks as you put on the snowboard boots and feel the overall fit.
Try also to do a heel lift, which is done by leaning forward and rising off your heels a little to determine if the boots would be comfortable during snowboarding.
Boot Flex
The boot flex expresses the stiffness or softness of the sole or the boot overall. The flex rating may range from 1 to 10. Getting a 1 rating means that the footwear has a super soft flex and a 10 rating means that it has stiff flex.
Boot Liner
Another important feather when shopping for wide snowboard boots is the inner liners. As much as possible choose boot products that are made of moldable and lightweight material called EVA.
These moldable liners may be removable and they provide basic stability and padding to your feet.
Footbeds
A supportive footbed is important for a snowboarder because it will help distribute the pressure evenly and reduce the pain in the feet during turns.
You may use the old insoles of your previous footwear to trim and fit for new boots or opt for boot models that come with trim-to-fit footbeds.
Lacing
Find a snowboard boot that has a quick-pull lacing, as much as possible, that makes it easy for you to loosen or tighten the snowboard boot even if you're wearing gloves.
If you prefer a speed lacing option, then choose the triple BOA closures.
Bottomline: Which One Should You Buy?
Overall, our top pick boots for snowboarders with wide feet would be the Burton Ruler Wide. It has always been included in forums where people with wide feet discuss the best snowboard boot for them.
One rider, for instance, mentioned how much of a relief it is to find a pair of boarders boots with extra forefoot room.
Compared to other snowboard boot brands, the Burton Ruler Wide likewise has a medium flex and comfortable heat moldable liner. Combining all its features, people can say goodbye to painful pressure points while wearing the Burton Ruler.
Similar Articles: