Goodyear welted shoes are intricately constructed using a modified sewing machine to suture the welt to the upper and insole of the shoe. Its delicate and tedious crafting technique makes the product highly durable.
In addition, the refined materials, the cut, and the welt lining exude an elegant and classic style.
No matter what brand these Goodyear welted shoes are made from — American brand, german brand, or Spanish shoe brand. Any shoe aficionado would definitely have these very high-quality shoes in their collection.
The welt is attached and sutured separately to the sole using the Goodyear welt construction method. This production method makes the shoes easy to repair and resole, so you can use your welted shoes longer; talk about longevity!
Because of its high-value production process, premium materials, durability, and timeless style, Goodyear welt shoes are expensive.
So, we curated a list of the best Goodyear welted shoes to help you splurge on a perfect and worthy pair.
If you want to know more about it, keep reading.
Best Goodyear Welted Shoes
1. Anthony Veer Men's Regan Wingtip Oxford Full Grain Leather Shoes Goodyear Welt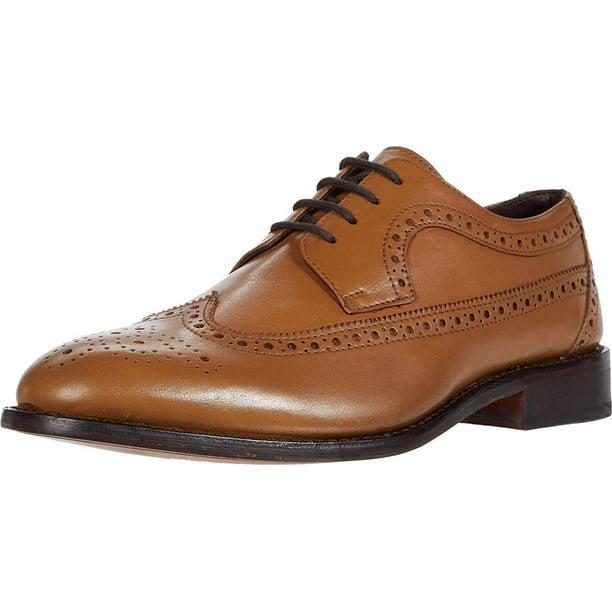 Product Description
Exquisitely designed with four eyelets, open lacing, and waxed laces, Anthony Veer Men's Regan Wingtip is one of the shoe brands that provide top choice for comfortable and in-style Goodyear welted shoes.
Its full-grain calfskin leather quality upper provides a smooth finish. The custom fit and brogue wingtip design are perfect as a men's dress shoe. In addition, its stacked wooden heel and cork bed midsole are so comfortable to walk around with.
Its leather soles are lock-stitches to the welts with two independent threads making shoes extra durable.
These shoes have leather line insoles that are highly breathable and can prevent bacterial growth, so they prove to be a good pair for a long day at work or at night parties.
Pros
Luxurious looking design
Made from highly durable materials (Full grain upper leather)
Highly breathable
Comfortable to wear
Water-resistant
Available in 3 different color selections
Cons
Not the best for wide feet
Interested? Check it out on this link!
2. Cole Haan Men's Lenox Hill Cap Oxford
Product Description
Simple and minimalist classic styles never go out of style just like this good dress shoe from Cole Haan Men's Lenox Hill Cap Oxford!
This classic lace-up oxford features blind eyelets and cap toe and is made from 100% leather material. With a thick stacked heel and full rubber sole that provides excellent traction!
Wearing Cole Haan is perfect for a business or professional look, even for casual, just pair it with vintage denim.
Pros
Simple minimalist look
Comfortable to wear
Manufactured by a trusted shoe brand
High-quality shoe
Available in British tan, black, and dark brown
Cons
Minimal arch support
Leather is a bit stiff which results in a long break-in period
Interested? Check it out on this link!
3. Allen Edmonds Shoes Men's Park AvenueOne-color
Product Description
This American-made Park Avenue by Allen Edmonds is one of the best men's dress shoes you can get in the market for its classic and beautifully crafted materials; it can definitely upgrade your style game.
Allen Edmonds is handcrafted using Goodyear welt construction; you can expect high durability. Notable politicians and leaders around the world use this classic business dress shoe.
These great shoes are made of premium calfskin leather and 360° Goodyear welt, which provides a soft and fine heel. In addition, the CustomCork insole provides comfortability, making these welted shoes perfect for long hours of use and on any occasion.
Aside from hand welted shoes, what's unique about the Allen Edmonds shoe brand is that they offer an extensive range of sizes and widths that will ensure a perfect fit.
[You can also read about: Best Men's Dress Shoes For Standing All Day]
Pros
Made from highly durable materials
Classic style
Offers a wide range of colors (up to 11 selections)
Extensive range of sizes and width
Cons
Interested? Check it out on this link!
4. GIFENNSE Men's Dress Shoes Oxford for Men
Product Description
Made of genuine cowhide leather, these welted shoes are great shoes for their price category. Unlike other shoe brands, these good shoes have smooth stitching details to show off their elegance and minimalism.
GIFENNSE oxford dress shoes use a handmade coloring process to exude a retro but not old fashion sense. Another feature of this welt shoe is its high-grade calfskin upper and soft lining that helps keep you fresh and dry. And a rubber outsole that provides great grip to any surface.
Pros
Uses handmade coloring process
Made from high-quality leather
Neat sewing
Affordable price range
Available in black, dark brown, and brown color
Cons
Interested? Check it out on this link!
5. CALTO Men's Invisible Height Increasing Elevator Shoes
Product Description
A distinguishing feature of this classic oxford is its discrete and ergonomic height "increaser". It has a perfect inclined angle and anti-fatigue cushioning that makes it comfortable to use with added height.
CALTO is handmade welted footwear with the highest standard of craftsmanship and stylish option. It is fabricated with semi-square toe, soft and supple leathers, breathable mesh fabrics, and elegant stitching for extra durability and style.
Pros
Hidden height increaser
Made from high-quality materials
With anti-fatigue cushioning
Comfortable to wear
Cons
Interested? Check it out on this link!
6. Florsheim Men's Castellano Wingtip Oxford
Product Description
Florsheim shoes are known for their high-quality shoes. Their brand has been in the market for centuries, a family tradition of making trendy and long-lasting shoes that have been passed on from one generation to the next.
Florsheim Men's Castellano Wingtip Oxford is a sleek and versatile shoe that allows you to go to any occasion in style is a must-have for any man. It features an elegant upper design with a lace enclosure that can adjust for that comfortable fit. Burnished finish tones and wingtip detailed stitching provides an even more elegant look and feel.
The insole footbed is made from breathable and comfortable materials, making an all-day occasion a breeze to walk. Definitely a great shoe at a reasonable price!
Pros
High quality
Made from 100% genuine leather upper
Made from the USA
With 1'' heel height
Available in 4 different color selections
Offers sizes for wide to extra wide feet
Easy to take on and off
Cons
For some, the "saddle tan" color looks different from actual
Interested? Check it out on this link!
7. DREAM PAIRS Bruno Marc Moda Italy Men's Prince Classic Modern Formal Oxford Wingtip Lace Up Dress Shoes
Product Description
Dream Pairs Bruno Marc's shoes are suitable for all your formal occasions. Its elegant classic color choices are a must for any businessman's wardrobe!
This shoe was designed with convenience and elegance in mind. It features a high-quality Faux leather Lining made from a Latex Cushioned footbed and soft PU upper that provides extreme comfort to support the feet even on a long day's work. With its lace-up design, getting on and off is a breeze, an ideal pair for the busy man.
Pros
With a unique classic wingtip design under its wood sole
With 1'' heel height
Available in 10 colors and designs to choose from
Slip-resistant outsole
Cushioned latex footbed for greater comfort
Easy to take on and off
Affordable price
Cons
The shoes have a strong chemical scent
Interested? Check it out on this link!
8. TSIODFO Men's Dress Shoes Oxfords Business Casual Shoes
Product Description
Tsiodfo is a trendy USA brand for leisure footwear. Their product portfolio is reasonably priced and adheres to international quality standards for footwear. Given this, the Tsiodfo brand is exponentially gaining loyal consumers not only in the USA but also in some parts of the globe.
The TSIODFO Men's Dress Shoes Oxfords Business Casual Shoes is made from genuine cow leather that provides superb breathability to keep your foot dry and fresh all day. On top of its breathable features, the insole adds extra comfort through its soft cushion.
The design is Italian brand inspired with its hand stitching, making the shoes look even more sophisticated and stylish. The hand-stitched workmanship also keeps the shape and quality of the shoes.
With non-slip bump soles that are designed to give you confidence on every step, no matter the surface type.
Pros
Anti-slip rubber sole so you can be confident with every step
Features foam lining cuff collar that prevents the foot from getting blisters
With thick fabric lining that provides good support
Available in 4 color selections
Breathable
Made from high-quality cow leather
Affordable price
Cons
More casual shoes than dress shoes
Does not offer sizes for wide feet
Interested? Check it out on this link!
9. FRASOICUS Men's Dress Shoes with Genuine Leather in Classic Brogue Elastic Band Oxford Formal Shoes for Men
Product Description
The Frascoicus Men's Dress Shoes prides itself on its hand-painted shoes which provide a more natural color transition than machine-painted ones. The product portfolio currently includes 3 color varieties only which are the top choices among men, namely Deep Black, Classic Brown, and Brilliant Dark Brown.
The shoes are made from genuine leather materials so you know they will last even with the busiest feet around. Aside from durability, it was designed for the busy man with its easy on and off feature made possible by its elastic band.
It is carefully crafted with a nice brogue design that shows off its elegance. Any man will surely fall in love with it!
Pros
Made from 100% leather material
Meticulously crafted in details
Made from sturdy high-density rubber outsole that is very flexible and wears resistant
Breathable and comfortable to wear
Available in 3 color selections
Cons
Does not offer sizes for wide feet
Interested? Check it out on this link!
10. Dr. Martens, 1461 Unisex Leather Oxford Shoe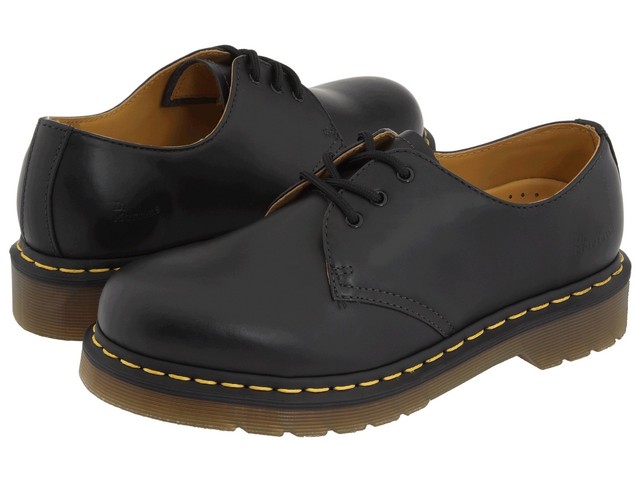 Product Description
Everybody knows Dr. Marten's shoes! It has become iconic in some way with millions of loyal consumers worldwide. This alone can be a true testament to its quality and timeless style.
In terms of quality, talk about its highly durable, tough smooth leather upper, with heat-sealed Goodyear welted line that is reinforced with their signature yellow stitching, air-cushioned sole that provides comfort all day long, and slip-resistant outsoles so you can be stable anywhere.
Not to mention, the design of Dr. Martens has always been that of a timeless look and feel, so regardless of your age, this one will suit your style.
The best feature of the Dr. Martens 1461 Leather Oxford Shoes is its unisex design and sizing.
Pros
Made from highly durable material
Easy to clean
Highly durable tough smooth leather upper
Unisex
Available in 4 color selection
Made from a brand with a good reputation in the shoe industry
Cons
It may take time to break-in
Interested? Check it out on this link!
Reasons Why Goodyear Welted Shoes Are Worth the Purchase
1. Long-lasting
Goodyear welted shoes are constructed with sophisticated hardware and trained professionals. The welting process is intricate—no wonder how highly durable the outputs are. The best-welted shoes can even last for a decade.
2. Water Resistant
The unique stitching to the inside of the sole leaves no hole, and the premium finish leather makes the shoes water-resistant. So you can easily rub off any scuff.
3. Soles are easy to repair
Goodyear welted shoe is stitched to the insole and upper, which makes the sole easy to repair. You can detach and replace the sole twice or even more, making it more long-lasting.
4. Stylish
The premium leather finish is the epitome of timeless class and elegance. That is why even though Goodyear welted shoes are expensive, many people will still invest in one.
Final Verdict: Which One Should You Buy?
While Goodyear welted shoes come with a price tag, the high-value production, premium, and quality materials used, and the shoe's resoleable component makes it popular among shoe enthusiasts.
Among the Goodyear welted shoes we reviewed above, Anthony Veer Men's Regan Wingtip Oxford Full Grain Leather Shoes Goodyear Welt makes it our top choice.
It is classy and elegant. In addition, it is made of premium leather and the finest materials, making it highly durable. With the shoes' replaceable sole, your shoes will go a long way. This classic oxford is definitely a worthwhile investment and a great value for your money!
If you like this article, you might want to check out our other articles at Planetshoes.net.